PRODUCT DESCRIPTION
Inox Bim, a leading company specialized in the production of Stainless Steel Professional Equipment for the Catering Industry, offers its customers a wide range of refrigerator tables.
The Euronorm line of refrigerator tables meets pizza and pastry fields specific requirements, a sit provides a number of tables designed and built for multiple uses of the pan (600×400 mm).
Legenda:
Prodotto in pronta consegna
Codici Modelli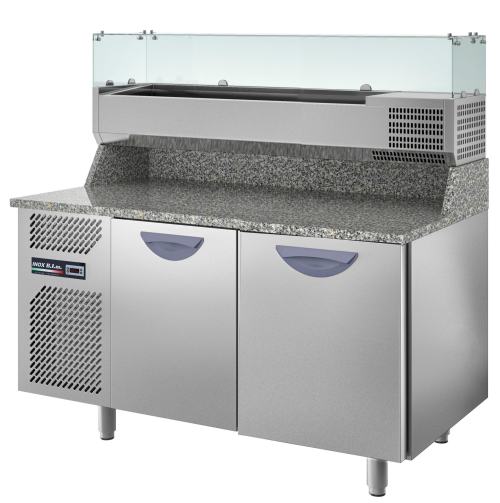 Features
---
The entire line of tables comes standard with a watertight single-block, the electronic thermostat, the automatic evaporation system for defrost water.
The pizza counter on the other hand has a Sardinian granite floor, raised on three sides to support the refrigerated display case for condiments.
Euronorm both at depth 800 and 700.
TN 0°+8° BT -15°-18° both with the unit on-board and remote.
Pizzeria furnishings complete with granite worktop and refrigerated condiment display case.
Supplied with recessed handles in grey ABS.
As an optional it is possible to ask for handles in polished stainless steel.